Hello beauties!
Essie introduces its new line Gel Couture Nail Collection which feature 42 shades. The new nail polish formula provides the shine of a gel nail color without the needing of an UV lamp. Having a gorgeous, shiny and long-lasting manicure has never been more easy since the new Essie Gel Couture is applied as your regular nail polish. As a first step you'll only need to coat your nails with a thin layer or base coat, then apply one or two coats of your favorite Essie Gel Couture color and finish with a glossy special top coat.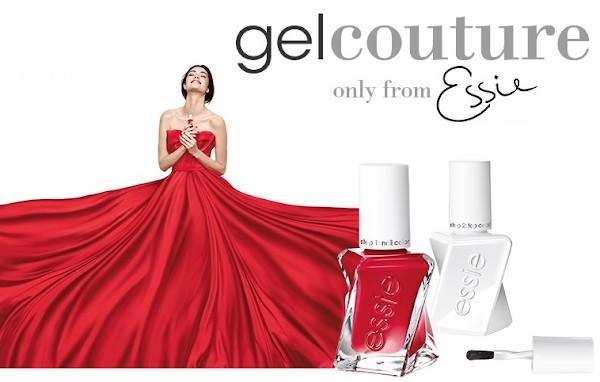 Availability
International Launch Date – June 2016
Essie Gel Couture Nail Summer 2016 Collection
The collection is divided into four categories which are represented by Atelier in soft neutral shades, First Look with pastel colors, followed by Fashion Show which reveals bright colors and finishing with After Party deep saturated colors.
Essie Gel Couture Atelier Collection
Shades:
Fairy Tailor – pink nude
First View – gentle blue
Make The Cut – pearl gray nude
Pearls of Wisdom – chocolate pearl
Pinned Up – warm beige and pink
Sew Me – pink and caramel
Sheer Fantasy – soft pink
Spool Me Over – pink and apricot
Stitch by Stitch – dusty pink
Take Me to Thread – soft taupe
Touch Up – delicate mauve
Twill Seeker – gray-green
Essie Gel Couture First Look Collection
Shades:
Beauty Nap – gray moss
Couture Curator – pastel pink-coral
Dress Call – delicate orchid
Haute To Trot – bright purple pink
Pre-Show Jitters – off-white
Zip Me Up – pastel mint
Essie Gel Couture Fashion Show Collection
Shades:
Beauty Marked – bright reddish-crimson
Flashed – electric scarlet
Labels Only – cornflower
Looks To Thrill – bright orange
Model Citizen – bright purple-pink
On The List – orange coral
Rock The Runway – bright red
Signature Smile – bright pink
Sit Me In Front Row – juicy raspberry
Style In Excess – cold purple
Take a Walk – lime
The It Factor – bright fuchsia
Essie Gel Couture After Party Collection

Shades:
Bubbles Only – burgundy
Caviar Bar – deep navy
Drop The Gown – ruby red
Find Me A Mannequin – ultramarine
Gala-Vanting – plum-red
Hang Up The Heels – black with jade shimmer
Model Clicks – wine and eggplant
Off Duty Style – dusty greenish blue
Spiked With Style – blood red
Surrounded By Studs – navy
Turn 'N' Pose – deep purple plum
Wrap Party – inky green
Essie Gel Couture Top Coat
Enjoy more photos…