Hello sweeties!
Swiss Line Ageless Purity 24 H Total Matte Solution (official info & photos) caught my attention since August with the Swiss Line products became available in my country trough Beauty Senses and because I have a combination skin type and one of my biggest concern is oil shine control I really wanted to see if this product is the real deal. My complexion has days when it looks flawless without any breakouts or blemishes but like every other combination skin type it has its bad days, but I don't have any acne scars or other sever skin problems.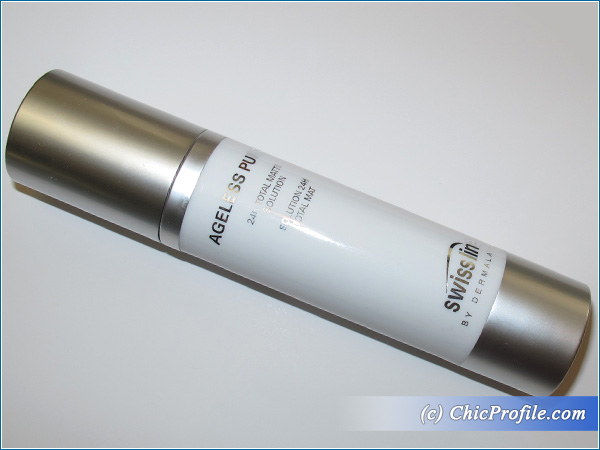 Talking about the packaging I must say this product comes in a white matte plastic bottle with a pump and has a silver cap. It doesn't allow you to see how much product is left inside and this is a disadvantage but I like the simple and classy packaging which suggests purity. The pump gives you total control over the amount of product you need for one application and for me it takes only one squeeze. It has a very nice and discreet smell, of something clean and fresh and I did distinguished a bit of apple fragrance.
Availability
International  – Now @swissline.net
Romania – Now at BeautySenses
Swiss Line Ageless Purity 24H Total Matte Solution (375 Lei/ 111.20 CHF for 50 ml/ 1.7 fl oz) is a 24-hour moisturizer, suitable for combination and oily skin types. It has a very light consistency, non-oily, non-greasy or sticky, that is easily absorbed by the skin making it smooth and soft while it minimizes the appearance of enlarged pores and gives your complexion a matte natural looking finish. This moisturizer has a white color with a hint of green which helps conceal redness. It feels incredibly lightweight and comfortable on the skin while it provides a long-lasting hydration.