Hello beauties!
I hope you are open to a different kind of Giveaway as I'm giving away in collaboration with Deep Heat Muscle Rescue 3 product sets. Each set features a full size Neck & Shoulder Cream (50 g) with Rosemary & Vanilla Fragrance, a full size Bath Soak (200 ml) to ease everyday stress & muscular tension and a Odourless Heat Patch for the effective relief of muscular aches & pains, joint stiffness, backache, strains and sprains.
If you are wondering about the efficiency of these products let me tell you that I've tested and used them last winter when I had back problems and muscular tension and they were amazing. That's why I'm counting on them this season again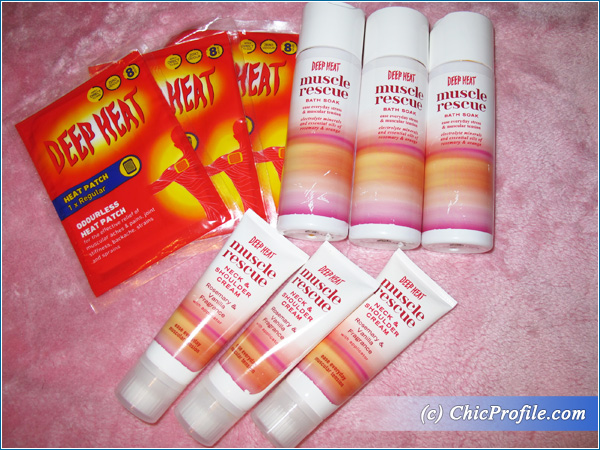 With its unique, herbal aroma that allows you to enjoy a spa-like experience in the privacy of your own home, Deep Heat Muscle Rescue Neck and Shoulder Cream has been formulated with a combination of vanilla and rosemary to offer an everyday solution to tired, tense muscles. The convenient 50g portable pack has a soft sponge applicator providing to provide a gentle massage when applying. Or immerse yourself into the Deep Heat Muscle Rescue Bath Soak. It contains electrolyte minerals and a unique combination of essential oils providing the relaxing aroma of rosemary, orange and patchouli to rescue stressed, tense muscles.
To enter please read the official rules… 
The approximate value of the grand prize is £36.00/ $58.00/ 190.00 Lei. This prize is non-transferable and there are no cash or other substitutes of prizes by winner. In case that the prize shipped to winner's address won't be pick up by the winner and the package returns to Chicprofile, I will not sent the package again and another winner will be selected.
By entering or accepting the prize in this contest, winner agrees  to be bound by these Official Rules, Terms, and Conditions and to conform to all federal, state and local laws and regulations.