Hello sweeties!
Over the past week I've spoiled my skin with Yves Rocher Cocoa & Raspberry Shower Gel and Body Lotion, new and limited edition products recently launched as part of Yves Rocher Cocoa Collection Holiday 2013. This new holiday line contains bath & body products with different scents like cocoa and orange, or raspberry and pistachio nut so I'm sure you'll find your favorite scent.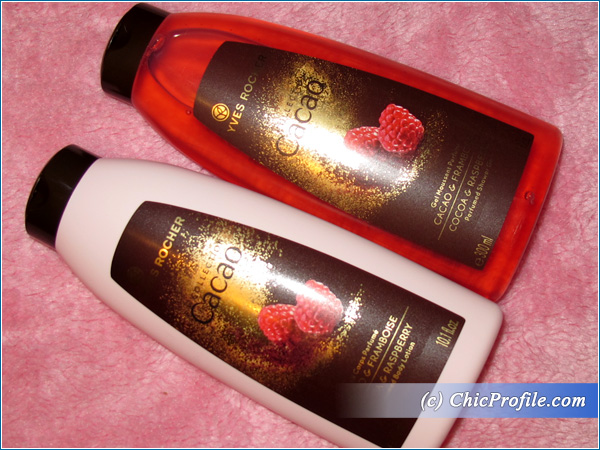 Availability
Now at Yves Rocher counters and online @yvesrocherusa.com, @yves-rocher.ro, @yves-rocher.co.uk
When I received these products last week at the Beauty Bloggers meeting I instantly became addicted to their strong sweet and fruity scent and I'm definitely considering this collection for a Christmas gift for my friends and relatives. These are really inexpensive products and it's totally worth buying the entire collection with the same scent which includes a lip balm, hand cream, room spray, shower gel and body lotion.
Yves Rocher Cocoa & Raspberry Shower Gel ($4.00/ £1.95/ 14.00 Lei for 300 ml/ 10.01 fl oz) is a raspberry pink liquidy gel which comes in a transparent plastic bottle with a cap. It gently washes my skin, transforming into a smooth foam with an irresistible cocoa and raspberry fragrance which lingers on my body for quite a while.
Shower time has really become a sweet guilty addiction with this Cocoa & Raspberry Shower Gel as I can't wait to feel its irresistible fragrance. Usually the scent of cocoa or chocolate puts me in a holiday mood but the only bad thing about this product is that it makes me crave sweets everytime I smell it just like the Moisturizing Hand Cream Cocoa & Orange (review & photos) from the same collection.
Yves Rocher Cocoa & Raspberry Body Lotion ($5.00/ £4.95/ 25.00 Lei for 300 ml/ 10.01 fl oz) has a very light liquidy creamy formula which is quickly absorbed into the skin while it leaves a delicious cocoa and raspberry scent on your skin for about 3 or 4 hours. It has a velvety consistency which is moisturizing and hydrating without leaving your skin sticky or oily.
When it comes to applying body lotions I became incredible lazy as I don't like to wait until the product is absorbed into my skin even though it may take only 5 minutes. With this new perfumed body lotions things have began to change because it is so fast absorbing (and I don't have dry skin). My skin feels so soft and smooth so I bet I'll be using this lotion quite a lot this winter. 🙂
Seriously now, any product from this collection can be highly addictive so you'll may want to re-stock your supply before the limited edition collection is sold out. 🙂
Enjoy more photos…