Hello lovelies!
Talking about spring beauty collections during this time of year it's already became a natural thing, but launching spring makeup product when fall hasn't even left yet is another. I feel that Too Faced got a head start this time because their new Spring 2014 Makeup Collection is already available online at Sephora. Even though the official launch date was set for December lovers of Too Faced products can take an early look right now.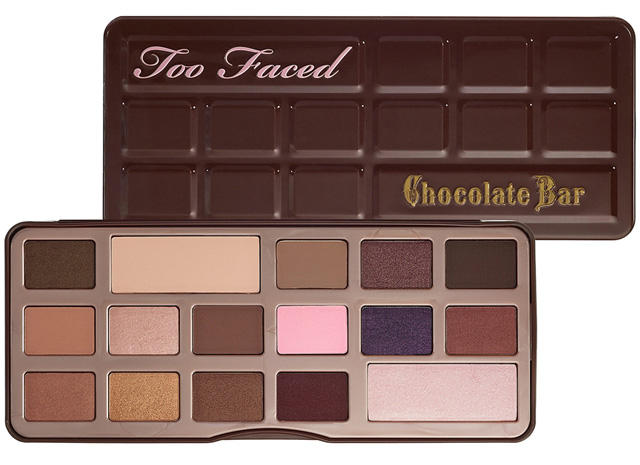 Early as it may be I'm falling in love with this collection already, especially with the new Too Face Chocolate Bar Palette which features so many nudes and sweet shades and has also 3 mini cards with tutorial looks included.
Availability
U.S. Launch Date – December 2013 at Sephora, @sephora.com, Ulta, @ulta.com, @toofaced.com
Too Faced Spring 2014 Makeup Collection
Too Faced Chocolate Bar Eye Palette – New – $49.00
This beautiful assortment of chocolate-inspired shades were formulated using real cocoa powder. Encased in a playful chocolate bar tin, the rich selection of the perfect browns, neutrals, and little pops of color appeal to every candy lover.
Shades:
Gilded Ganache
Milk Chocolate
Black Forrest Truffle
Triple Fudge
Salted Caramel
Marzipan
Semi-Sweet
Strawberry Bon Bon
Candied Violet
Amaretto
Hazelnut
Crème Brulee
Haute Chocolate
Cherry Cordial
White Chocolate
Champagne Truffle
Too Faced Sweethearts Perfect Flush Blush – New – $30.00
This blush was developed with easy application and a no-fail color palette to take the guesswork out of creating a sweet, romantic flush. With a baked color formula— the same technology that allows it to truly work on all skintones—the blush can be applied as a beautiful buildable finish.
Shades:
Peach Beach (shimmering peach/ rosy pink/ shimmering light golden bronze)
Something About Berry (shimmering mauve pink/ golden peach/ shimmering magenta pink)
Too Faced La Creme – $22.00
Indulge lips with luxurious color and super moisturizers including white lotus flower and power peptides. This rich formula comes in abundant shades in four essential color ranges: nudes, spices, pinks, and reds. Edited to only the most fashionable shades, it's impossible to pick just one.
New Shades:
Taffy (pink marshmallow nude)
Jelly Bean (raspberry red)
Lollipop (violet w/ orchid shimmer)
Pink Chocolate (berry brown)
Bon Bon (pink papaya)
Enjoy more photos…