Hello lovelies!
Even though is not Christmas yet, as you all may know the information for most Spring 2014 Beauty Collections has already been released. The majority of these beauty collections, either if we are referring to makeup, nail polishes, skincare, fragrance, bath & body, brushes or other cosmetics, will be released in the beginning of January 2014 in US and Asia while Internationally it may arrive in February.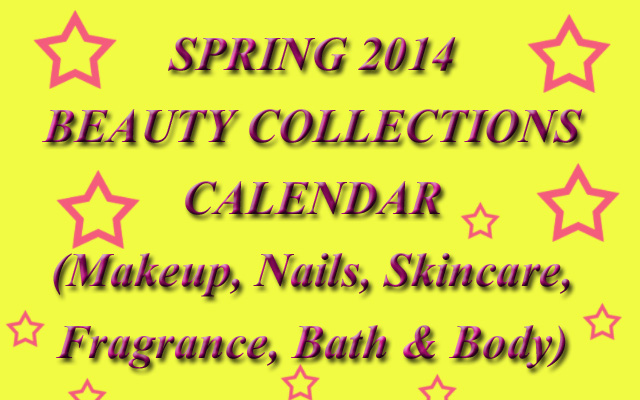 It's true that some of these claimed to be spring products are already available but I personally don't see the point to releasing spring items before Christmas especially since I'm living in a country where winter can end in late March. All that being said I invite you to take a look at the following calendar of upcoming spring 2014 beauty collections which I will update weekly if new collections or more info becomes available.
Take a look after the jump if you dare to see what's waiting for you on the counters in the beginning of 2014.
SPRING 2014 MAKEUP COLLECTIONS
Artdeco Love is in the Air Collection Spring 2014
International Launch Date – late January 2014
Bobbi Brown Nude Glow Collection Spring 2014
Japan Launch Date – 10 January 2014| U.S. Launch Date – January 2014
Bobbi Brown Lip Color Shimmer Finish Spring 2014
U.S. Launch Date – end December 2014 | Japan Launch Date – 1 January 2014 | International Launch Date – January 2014
Catrice Lash Flash Collection Spring 2014
International Launch Date – mid January to February 2014
Catrice It Pieces Collection Spring 2014
International Launch Date – mid January to February 2014
Catrice Celtica Collection Spring 2014
International Launch Date – mid December 2013 until end January 2014
Catrice Lash Flash Collection Spring 2014
International Launch Date – mid January to February 2014
Catrice Lala Berlin Loves Catrice Collection Spring 2014
International Launch Date – end of January until February 2014
Catrice Une, Deux, Trois Collection Spring 2014
International Launch Date – February 2014
Catrice Creme Fresh Collection Spring 2014
International Launch Date – in February and March 2014
Chanel Notes du Printemps Collection Spring 2014
Japan Launch Date – 10 January 2014 | U.S. Launch Date – January 2014
Chanel Variation Collection Spring 2014
Japan Launch Date – 21 February 2014 | U.S. Launch Date – mid March 2014
Chanel Jardin de Camelias Collection Spring 2014
U.S. Launch Date – TBA (exclusively online @chanel.com)
Chanel Perfection Lumière Velvet Collection Spring 2014
U.S. Launch Date –  mid February 2014
Chanel Métiers d'Art Collection Spring 2014
International Launch Date – March/ April 2014
Chantecaille Save The Bees Collection Spring 2014
International Launch Date – January 2014
Clarins Opalescence Collection Spring 2014
International Launch Date – February 2014
Clinique Spring 2014 Makeup Collection
Japan Launch Date – 14 February 2014 | International Launch Date – March 2014
Collistar Ti Amo Italia Collection Spring 2014
International Launch Date – February 2014
Dior Trianon Collection Spring 2014
Japan Launch Date – 10 January 2014 | U.S. Launch Date – 15 January 2014 | International Launch Date – end January/ February 2014
Dior Snow Collection Spring 2014
Japan Launch Date – 28 February 2014 | U.S. Launch Date – Summer 2014 Nordstrom Anniversary Sale
Essence Love Letters Collection Spring 2014
International Launch Date – from mid January until end February 2014
Essence Kalinka Beauty Collection Spring 2014
International Launch Date – January 2014
Essence Ice Ice Baby Collection Spring 2014
International Launch Date – early January until end February 2014
Essence New In Town Collection Spring 2014
International Launch Date – February 2014
Estee Lauder Derek Lam Collection Spring 2014
U.S. Launch Date – January 2014
Estee Lauder Pure Color Envy Sculpting Lipstick Spring 2014
International Launch Date – February 2014
Estee Lauder Effortless Eye Collection Spring 2014
U.S. Launch Date – mid December 2013
Estée Lauder Double Wear All Day Glow BB Collection Spring 2014
U.S. Launch Date – January 2014
Estee Lauder Sumptuous Infinite Daring Length + Volume Mascara Spring 2014
International Launch Date – beginning January 2014
Estee Lauder Spring 2014 Makeup Collection
International Launch Date – January 2014
Giorgio Armani Effetto Nud0 Collection Spring 2014
Japan Launch Date – 1 January 2014 | International Launch Date – January 2014 | German Launch Date – 3 February 2014
Givenchy Over Rose Collection Spring 2014
Japan Launch Date – 10 January 2014 | International Launch Date – 21 January 2014
Givenchy Ombre Couture Spring 2014
Japan Launch Date – 10 January 2014| International Launch Date – 1 February 2014
Gucci Spring 2014 Makeup Collection
International Launch Date – TBA
Guerlain Meteorites Blossom Collection Spring 2014
Japan Launch Date – 17 January 2014 | Taiwan Launch Date – 1 January 2014 |U.S. Launch Date – January 2014 International Launch Date – February 2014
Guerlain Meteorites Perles Spring 2014
Japan Launch Date – 17 January 2014
Illamasqua I'm The One Collection Spring 2014
International Launch Date – 30 January 2014
Jill Stuart Relax Collection Spring 2014
Japan Launch Date – 7 February 2014
Jill Stuart CC Cream Spring 2014
Japan Launch Date – 7 March 2014
Jill Stuart New Year's Kit 2014
Japan Launch Date – 6 January 2014 until 31 January 2014
Jill Stuart Thumbelina Collection Spring 2014
Japan Launch Date – 10 January 2014| International Launch Date – January 2014
Lancome French Ballerina Collection Spring 2014
International Launch Date – January 2014
Lancome Miracle Air de Teint Spring 2014
U.S. Launch Date – January 2014 | International Launch Date – January 2014 | Romania Launch Date – January 2014
Lancome UV Expert XL Shield 2014
Japan Launch Date – 21 February 2014
Laura Mercier Renaissance Collection Spring 2014
U.S. Launch Date – December 2013 | International Launch Date – January 2014
Lunasol Sand Collection Spring 2014
Japan Launch Date – 17 January 2014
MAC Magnetic Nude Collection Spring 2014
U.S. Launch Date – 26 December 2013 | International Launch Date – January 2014
MAC Disney Collection Spring 2014
International Launch Date – Spring 2014 (TBA)
MAC Huggable Lip Color Collection Spring 2014
U.S. Launch Date – 26 December 2013 | International Launch Date – January 2014 | Japan Launch Date – 1 January 2014
MAC Eyeshadow x 15 Spring 2014
U.S. Launch Date – 9 January 2014 | International Launch Date – March 2014
MAC By Request Collection Spring 2014
MAC Mineralize Eyeshadow Quad Collection Spring 2014
U.S. Launch Date – 6 March 2014 | International Launch Date – March 2014
MAC Viva Glam 2014 Rihanna Collection
U.S. Launch Date – 21 January 2014 | International Launch Date – February 2014
MAC Feminine Face Collection Spring 2014
U.S. Launch Date – 2 January 2014
MAC Eyeshadow x 15 Palettes Spring 2014
U.S. Launch Date – 9 January 2014 at MAC Pro Stores | International Launch Date – March 2014 at MAC Locations
MAC Mineralize Eyeshadow Quads Spring 2014
U.S. Online Launch Date – 2 January 2014 @maccosmetics.com | U.S. Launch Date – 6 March 2014 at MAC Locations | International Launch Date – March 2014 at MAC Locations
MAC Fantasy of Flowers Collection Spring 2014
International Launch Date – February 2014 at MAC Locations
MAC Proenza Schouler Collection Spring 2014
U.S. Launch Date – Spring 2014
Make Up For Ever HD Pressed Powder Spring 2014
U.S. Launch Date – January 2014 | International Launch Date – January 2014
Max Factor Excess Volume Extreme Impact Mascara & Eyeliner
International Launch Date – January 2014
NARS Final Cut, Edge of Pink Collection Spring 2014
U.S. Launch Date – January 2014 | International Launch Date – January 2014 @narscosmetics.eu
NARS Makeup Collection Spring 2014
International Launch Date – 1 February 2014
Paul & Joe Spring 2014 Makeup Collection
International Launch Date – January 2014
RMK Play On Pink Collection SS 2014
Japan Launch Date – 17 January 2014
Shiseido Spring 2014 Makeup Collection
Japan Launch Date – 1 January 2014 | International Launch Date – January 2014
Shu Uemura Bijoux Collection Spring Summer 2014
International Launch Date – Spring 2014 (Exact Launch Date TBA)
Sisley Phyto Twist Spring 2014
International Launch Date – January 2014
Smashbox Camera Ready BB Cream Eyes SPF 15
Available now
Sonia Rykiel Makeup Collection Spring 2014
Japan Launch Date – 1 February 2014
The Body Shop Makeup Collection Spring 2014
Japan Launch Date – 7 February 2014 | International Launch Date – February 2014
Too Faced Spring 2014 Makeup Collection
U.S. Launch Date – December 2013
Tom Ford Color Collection Spring 2014
International Launch Date – February 2014
Victoria's Secret Beauty Rush Collection Spring 2014
U.S. Launch Date – mid December 2013
YSL Flower Crush Collection Spring 2014
Japan Launch Date – 17 January 2014 | U.S. Launch Date – January 2014
International Launch Date – 2 January 2014| U.S. Launch Date – December 2013
SPRING 2014 NAIL POLISH COLLECTIONS
China Glaze Sea Goddess Collection Spring 2014
International Launch Date – Spring 2014 (TBA)
China Glaze City Flourish Collection Spring 2014
U.S Launch Date – January 2013 | International Launch Date – February/ March 2013
Ciate Dolls House Collection Spring 2014
International Launch Date – February 2014
Essence Gel Nails at Home Collection Spring 2014
International Launch Date – February 2014
Essie Resort Collection Spring 2014
International Launch Date – 1 February 2014
Kinetics 2014 Launches – Calendar
OPI Gwen Stefani Collection Spring 2014
U.S. Launch Date – 1 January 2014
U.S. Launch Date – 5 February 2014 | International Launch Date – February/March 2014
Nicole by OPI Carrie Underwood Collection Spring 2014
U.S. Launch Date – January 2014
OPI Springspiration Collection  2014
International Launch Date – March/ April 2014
OPI Spotlight On Glitter Collection Spring 2014
International Launch Date – 1 March 2014
Orly Gel FX Collection Spring 2014
International Launch Date – 15 February 2014 |  Romania Launch Date – Spring 2014
Orly Blush Collection Spring 2014
International Launch Date – 15 February 2014
YSL La Laque Couture Spicy Collection Spring 2014
International Launch Date – December 2014 for the Top Coat (TBA for the new shades)
Zoya Naturel Collection Spring 2014
U.S. Launch Date – 1 January 2014
 SPRING 2014 SKINCARE COLLECTIONS
Clinique Superdefense Daily Defense Moisturizer SPF 20
International Launch Date – January 2014 | U.S. Launch Date – December 2013
Clinique Even Better Essence Lotion Spring 2014
Asia Launch Date – 14 February 2014
International Launch Date – January 2014 | China Launch Date – 2015 (TBA)
Estee Lauder Micro Essence Lotion Spring 2014
Japan Launch Date – 31 January 2014
La Prairie Cellular Swiss Ice Crystal Collection Spring 2014
International Launch Date – February 2014
Essence Pure Skin Anti-Spot Micro Peeling Spring 2014
International Launch Date – January 2014
SPRING 2014 FRAGRANCE COLLECTIONS
Calvin Klein Endless Euphoria Fragrance
International Launch Date – March 2014
CK One Red Edition Spring 2014
International Launch Date – January 2014
Chloe See by Chloe Eau Fraiche Fragrance Spring 2014
International Launch Date – January 2014
Essence Like Best Friends Forever Fragrance
International Launch Date – February 2014
Guerlain La Petite Robe Noire Couture Spring 2014
U.S. Launch Date – January 2014 | International Launch Date – February 2014
Jo Malone London Rain Collection Spring 2014
International Launch Date – March 2014
Lancome La Vie est Belle EDT Spring 2014
International Launch Date – January 2014 | Romania Launch Date – January 2014
Lanvin Marry Me Love Balloons Fragrance Spring 2014
International Launch Date – 3 March 2014 | Japan Launch Date – January 2014
Marc Jacobs Daisy Delight Duo Spring 2014
International Launch Date – Spring 2014
Salvatore Ferragamo Signorina Eleganza Fragrance
International Launch Date – February 2014
Victoria's Secret Glamour Collection Spring 2014
U.S. Launch Date – mid December 2013
YSL Manifesto L'Eclat EDT Spring 2014
International Launch Date – March 2014 | Romania Launch Date – February 2014
SPRING 2014 CANDLE COLLECTIONS
Jo Malone Just Like Sunday Collection Spring 2014