Hello pretties!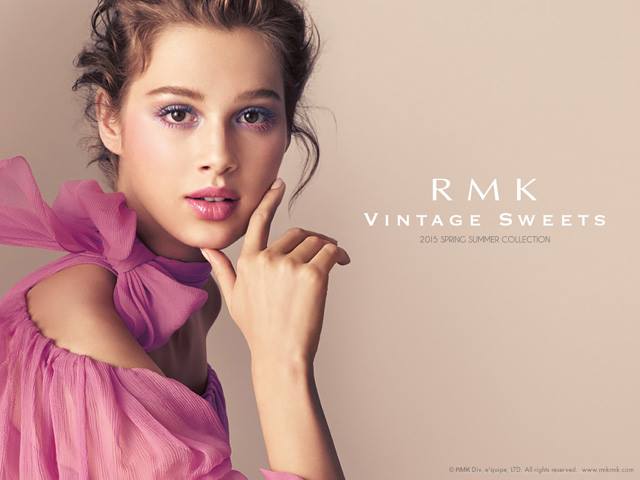 RMK Vintage Sweets Collection is one of the prettiest and sweetest spring 2015 makeup line as it offers besides pastels, fresh shades of pink and corals. The blushes and eye colors are absolutely adorable, bearing fun patterns of flowers  and stripes.
Imagine a picture book that invites you to a world of "once upon a time", or a door leading to a scene of yesteryear with afternoon tea and sweet fragrances. That's our new collection – a delightful confection of dreams. Its variety of candy-like pastel colors conveys a look of elegance and sweetness, an alluring play of dulcet colour, especially for grownups.
RMK's Vintage Sweet Collection evokes a past made new with contemporary sensibility.  No other range of makeup will give you the thrill of finding the new you.
Availability
Japan Launch Date – 16 January 2015
RMK Vintage Sweets Spring 2015 Collection
Sweet Sugar Eyes – New & Limited Edition
01 Sugar Pink Beige
02 Sugar Gray
03 Sugar Blue
04 Sugar Yellow
05 Sugar Brown
W Color Mascara – Limited Edition
01 Black & Pink
02 Brown & Orange
03 Blue & Violet
04 Indigo & Green
05 Dark Grey & Yellow
Vintage Candy Cheeks – Limited Edition
01 Candy Pink
02 Candy Rose
03 Candy Red Rose
04 Candy Mocha Brown
Vintage Drop Gloss – Limited Edition
01 Rose
02 Maple Syrup
03 Cassis
04 Butter Scotch
Vintage Sweet Face Color – Limited Edition
01 Blue Lilac
02 Yellow Green
Face Color Brush
Made with natural goat hair, this face color brush is designed with calculated curves and angles for the ultimate facial contour fit and ease of use. Can be used as applying shading and blusher.
Nail Color EX – Limited Edition
EX-26 Smoky Beige
EX-27 Smoky Pink
EX-28 Smoky Blue
EX-29 Smoky Green
EX-30 Smoky Purple
Nail Art Liner – Limited Edition
EX-01 Smoky Beige
EX-02 Smoky Gray
Ingenious Powder Eyes N
EX-08 Silver Green
EX-09 Silver Orange
Ingenious Powder Cheeks N
EX-06 Shiny Coral
EX-07 Shiny Rose
Enjoy more photos…