Hello pretties!
I don't know how I could forgot about RMK Silver Screen Collection that was released for fall winter 2016. The collection is still available a little longer in shops if you want to check it out.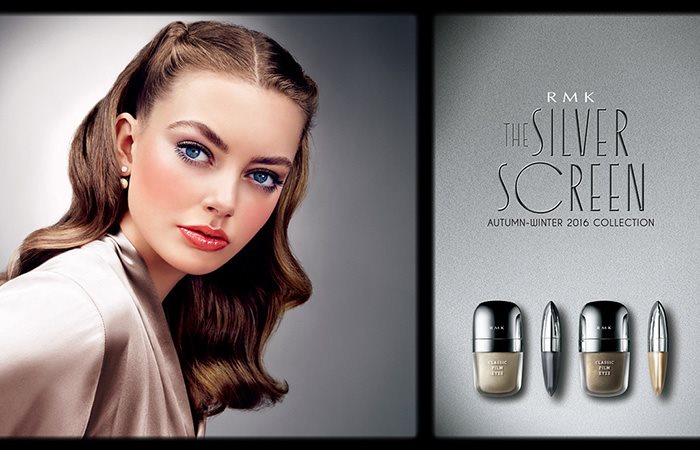 The click-whirl of a film projector. Flickering images swim into view. Behold, the diva legends of cinema's golden age on a silver screen! This autumn, RMK brings you a makeup collection inspired by the nostalgia of classic Hollywood cinema. Timeless hues and alluring textures endow your expression with nobility and glamour. Graceful yet casual, nostalgic but 'now'. Why not step outside your standard repertoire of roles with hues stylized by RMK's sense and sensibility?
Availability
International – Now at RMK counters (Selfridges)
RMK Fall Winter 2016 Silver Screen Collection
Classic Film Eyes – Limited Edition
A range of glistening water-based eye shadow, rich with deep metallic finish, creating that imperious and gloriously radiance on eyes. Its liquid texture transforms to smooth powder on application, intimately clothing the skin like a film layer, setting your eyes ablaze with long-lasting beauty. Our image is the screen goddess, matchless in art, timeless in beauty. Choose from the seven colors which redolent of the classic age of cinema.
01 Silver Screen
02 Monochrome
03 Classic Film
04 Classic Pink
05 Mocha Sepia
06 Antique Pearl
07 Sepia
Classic Film Cheeks – Limited Edition
A range of liquid blusher to tint your cheeks so the color seems to flash from within. Its non-pearlescent formulation delivers a color pure clear and simple, letting each hue shines out in its own nature. Buildable texture allows you to fine tune the finish, creating a vital glow that lasts.
01 Classic Peach – fresh peach
02 Charming Pink – innocent pink
03 Nude Haze – sexy beige
04 Open Rose – sophisticated rose
05 Classic Berry – top-drawer class berry
Classic Film Gloss – Limited Edition
A range of feather-light gloss comes in subtlety of color and a hint of natural glamour. It reacts with the moisture of your lips, gradually imbuing them to yield a shade of color unique to you. Choose from the innocent pink to grown-up rose – four thrilling possibilities for you to explore. Why not choose something out of the ordinary and flaunt a new you!
01 Light Coral
02 Light Pink
03 First Rose
04 True Rose
Nail Color EX – Limited Edition
EX-59 Classic Silver
EX-60 Classic Grey
EX-61 Classic Khaki
EX-62 Classic Sheer Pink
EX-63 Classic Brown
W Eyebrow Colors – New
01 Caramel Gold
02 Marron Brown
03 Golden Mauve
04 Red Brown
Enjoy more photos…