Hello pretties!
RMK launches for the summer 2016 season its new Cool n' Pop Collection with new and limited edition soft shades. Lips will be touched by soft and sheer colors while the eye makeup will be very colorful. Do check it out right after the jump!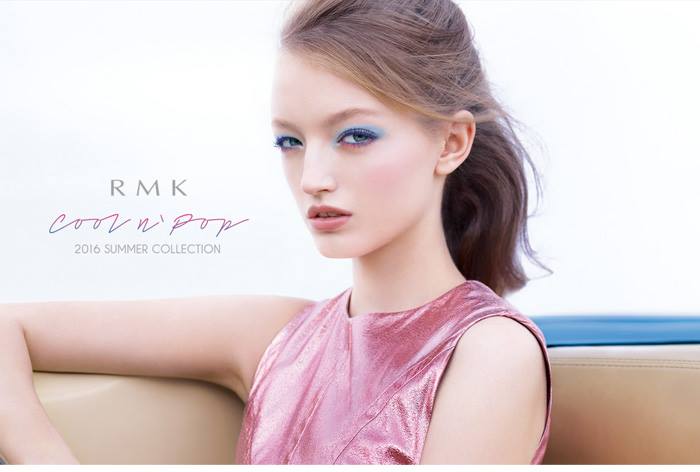 Bright yet poised, unpretentious yet urbanely chic. That's the look you'll enjoy this summer with RMK's nuanced palate of colors, for the sophisticate in you. Eyes cool but colorful, clear bright lips that look great in the sun, soft cheeks and eye-catching finger tips. Select and combine colors for just the effect you want, and create a summer look you never thought possible 'til now. Have all the colorful fun you fancy – that's what RMK is for!
Availability
Japan Launch Date – 28 April 2016
UK Launch Date – May 2016
RMK Cool n' Pop Summer 2016 Collection
RMK Crayon Color Eyes – New & Limited Edition
A crayon range comes in cool n' pop hues to create the statement summer look. This new eye color has a soft gliding texture that allows you to vary the finishing look in different ways – to draw lines, or smudge to soften and graduate, or create an intense dazzling look with a stroke of the crayon. Its waterproof formula guarantees longer lasting makeup.
01 Mint
02 Light Blue
03 Summer Pink
04 Sparkling Silver
05 Cool Night Black
Lip Care Colour UV Stick – Limited Edition
This sheer lipstick protects lips from the strong ultraviolet rays of the summer sun. An impermeable shield against dehydration, it conditions for smooth lustrous lips. You'll just love the cool sensation, infused with peppermint and menthol. Every time you put it on, a great fresh feeling is guaranteed.
01 Sun Yellow
02 Pink Shell
03 Summer Coral
04 Fresh Beige
05 Light Red
06 Cassis Rose
W Color Mascara – New Shades & Limited Edition
The long awaited addition to our double-headed W Color Mascara white you can shade upper and the lower lashes with different hues. Use our vivid summery colors boldly and create a stunning look – that lasts word in the suavely urbane for eyes. These refined combinations of color let you create a truly individual look, one you can only find thanks to RMK. Also, its skincare ingredients are a boon for your precious lashes.
EX-01 Purple Red
EX-02 Green Marine
EX-03 Raspberry Turquoise
Nail Color EX – New Shades & Limited Edition
EX-47 Milky Summer
EX-48 Ice Gray
EX-49 Indigo Blue
EX-50 Dark Navy
Ingenious Powder Eyes N – Limited Edition
Sky Blue conjures up the dazzling blue clearness of a midsummer sky, and Sparkling White lends and exciting scintillation to your eyes with its bright polished finish. Blending naturally into your skin, both shades evoke an airy stylish look, perfect for summertime.
EX-17 Sky Blue
EX-18 Sparkling White
Ingenious Powder Cheeks N – Limited Edition
Ice Lilac contains blue pearls, which enhance the clarity of your complexion, for a look of cool limpidity. With Frosty Rose, you will be sweet yet undeniable chic, its gold pearls adding a touch of elegance to your cheeks. Let them bring out the cultivated stylish adult in you this summer.
EX-14 Ice Lilac
EX-15 Frosty Rose
Enjoy more photos…