Hello beauties!
This year RMK Christmas Color Jewelry 2015 Collection is somehow divided in three parts and it features a makeup kit, brush set and base makeup kit. When we took a first look at RMK Holiday 2015 Collection back in September, I was aware only of the makeup items, so I now we get to discover the other Christmas offerings as well.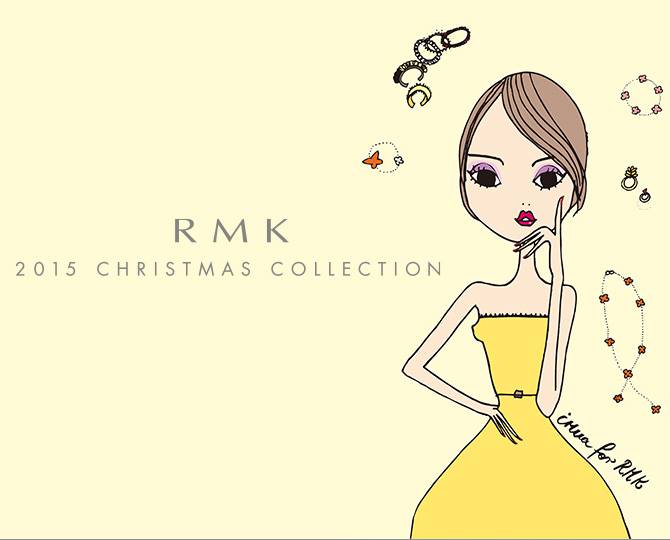 As exciting as lifting the lid on a box of jewels. The winter RMK introduces our Christmas makeup, inspired by the gleaming colors of fine shimmering jewelry. You cannot miss this chic compact, illustrated by Irma exclusively for RMK. Our Base Makeup Kit contains a limited edition concealer, lavishly infused with pearlescent. And we round out our offer with a handy brush set. Enjoy flaunting colors that shimmer like jewels and get in gear for the festive season, exclusively for you!
Availability
Japan Launch Date – Pre-Order 6 November 2015 | 20 November 2015 in Stores
UK Launch Date – end November 2015 at Selfridges
RMK Christmas 2015 Collection
RMK Christmas Kit 2015 – New & Limited Edition
Exclusive for this Christmas, a makeup kit loaded with colors bright yet elegant. Eyeshadows inspired by sapphires and emeralds, cheek colors the hue of pink diamonds, lip gloss and nail color rich as red rubies. Bring your festive look to perfection with a makeup that adorns you with glimmering jewels. Do not miss this limited edition compact, with exclusive illustration by IRMA. A sure bet for a party mood, dripping with glamour!
Contains:
RMK Christmas Palette 2015
RMK Lip Jelly Gloss EX-01 Sparking Ruby (mini size)
RMK Nail Color EX-41 Red Ruby (mini size)
RMK Original Jewelry Box
RMK Illustrated Sticker (2 pieces)
RMK Christmas Brush Set 2015 – Limited Edition
A "must have" for top quality makeup, comprising three travel-size brushes for cheek, eyeshadow and eye liner, in its own case. The ideal complement to our Christmas Palette (sold separately), it's convenient to carry anywhere for touching-up anytime. With tools this well designed, it will make all the difference to your makeup's finishing touches.
RMK Christmas Base Makeup Kit 2015 – Limited Edition
Let your base makeup shine with jewel – like splendor. This Christmas only, our base makeup kit is available for the translucent, glowing base finish of your dreams – so RMK! To complete this special set, choose either our new Airy Powder Foundation or our popular Creamy Foundation (both full sized) along with a limited-edition liquid concealer, rich as pearl and dazzling as a jewel, plus our skin care travel-size duo – the intense moisturizing Skintuner and a brand-new serum. An exclusive pouch, simply yet beautifully functional, will hold all four items.
RMK Airy Powder Foundation SPF 25  (9 shades)
RMK Creamy Foundation N SPF 28 (7 shades)
RMK Super Basic Liquid Concealer N EX-01 (Limited Edition)
RMK Skintuner Treatment Extra Moist (30 ml) (mini size)
RMK Barrier Treatment Essence (8 ml) (mini size)
Original Pouch
Enjoy more photos…