Hello beauties!
RMK celebrates its 20th Anniversary this season and therefore launches a special edition Makeup Collection (info, photos) that I've told you about previously but it also chatting about the products we need in order to achieve a Fresh Glowing Skin.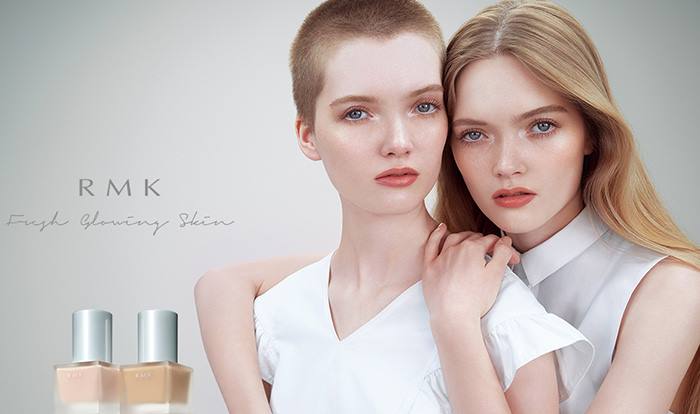 To mark 20 years since RMK's debut, we have given the packaging of our base products a complete makeover. This beautiful new look is the quintessence of simplicity and refinement. With a muted silver as our new signature color, we've adopted a modernist line for a beautiful square shape to the container body. On the cap is our initial 'R' in a ribbon design, its flowing movement suggestion motion into the future. For greater ease of use, we have employed a pump-type dispenser for our Makeup Base and Liquid Foundation. Your eyes will glisten with anticipated pleasure at the prospect of your daily make up. What sort of beautiful skin do you desire today?
Availability
International Launch Date – Now @rmkrmk.com and RMK Counters
RMK 2017 Fresh Glowing Skin
PRIMERS
RMK Makeup Base – 30 ml
RMK's signature primer in a light smooth liquid texture, guaranteed to prep perfectly for a smooth and well hydrated finish, enhancing the natural radiance beneath the makeup.
RMK Creamy Polished Base SPF 14 – 30 g

A gliding creamy textured primer to banish pores and bumps for an unseen polished smoothness. Available in 3 shades.
RMK Long Lasting UV SPF 45 – 30 ml
A long-wear, protective primer to deliver superior sun protection, creating that smooth fresh "just applied" look.
RMK Basic Control Color SPF 20 – 10 g
Designed to address dull and uneven skin tone, this tone-corrector works to achieve perfect complexion with maximum clarity and translucence. Available in 4 shades.
FOUNDATIONS
RMK Liquid Foundation SPF 14 – 30 ml
RMK's signature liquid foundation creates that natural dewy look with just the right coverage, enhancing your own skin's beauty to emulate the look of bare skin. Available in 9 shades.
RMK UV Liquid Foundation SPF 50 – 30 ml
This liquid foundation provides high level of broad-spectrum UV protection, creating natural clear finish that glows with translucency. Available in 7 shades.
RMK Creamy Foundation N SPF 28 – 30 g
An exquisitely moisturized cream foundation to suffuse your skin with light, creating the firm supple touch to the skin. Available in 7 shades.
RMK Gel Creamy Foundation SPF 28 – 30 g
This gel-type creamy foundation combines the clarity of a gel with the great coverage of a cream, creating the ultimate supple flawless complexion.