Hello beauties!
This giveaway just ENDED! The lucky winner is ALINA (FB ID: Alina Iacovita). Thank you everyone for taking part at this Giveaway and for sharing it on your blog and social pages. I want to thank everyone who congratulated me on my B-day and for writing me such kind words. Don't forget the next Giveaway will start in January 2014 and will be dedicated to those who are active on the blog leaving comments, suggestions and those that are supporting me on FB and Twitter. Happy Holidays!
Next week it will be my Birthday so I'm hosting a big INTERNATIONAL GIVEAWAY with products over $650.00 value. I know I don't host giveaways very often but you know that when I do I make them worth your while. Over the past week I asked you what products and from brands would you like to see included in this Giveaway. I'm happy that I received so many messages from you because I was able to include some of your favorite brands and products. I wish I could have done more but not all the brands that you suggested are available here and my budget was limited to a certain value.
For some of these products I have reviews and swatches on the blog because they are my favorite products/ shades as well and I wanted to go buy them again so one of you will have the chance to try out some of my favorites as well and perhaps share it with her friends and family this holiday season.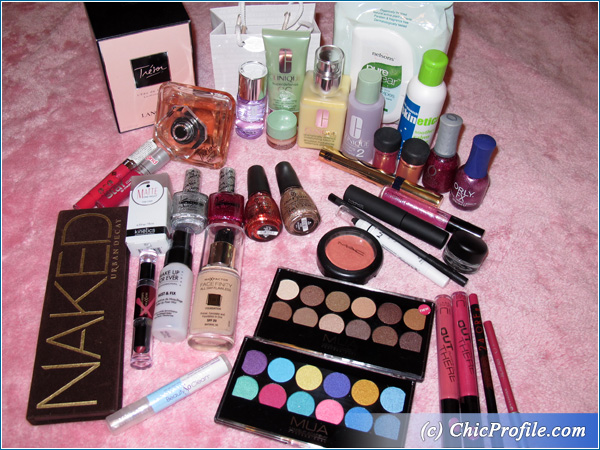 Availability
Anyone can enter this International Giveaway (I'll ship world wide) starting today 30 November 2013 until 27 December 2013 (last day) . As usual I will update this post on next day (28 December 2013) with the winner's name.
Find out the detailed list of product and how to enter right after the jump!
How to Enter!
The more entries you do the bigger your chances to win this prize are:
Answer Question: What product made you enter this Giveaway? – 1 ENTRY
Like Chicprofile on Facebook (include your name in the comment bellow) – 1 ENTRY
Share this Giveaway on your Facebook page (include the link in the comment bellow) – 2 ENTRIES
Follow Chicprofile on Twitter (include your name in the comment bellow) – 1 ENTRY
Tweet about this Giveaway on Twitter – 2 ENTRIES
Spread the word about this Giveaway on your blog – 3 ENTRIES
Add Chicprofile to your Blogroll – 3 ENTRIES
List of Products:
Lancome Tresor L'Eau de Parfum Lumineuse (100 ml/3.4 fl oz)
Clinique Dramatically Different Moisturizing Lotion + (125 ml/4.2 fl oz)
Clinique Superdefense CC Cream SPF 30 in Medium (40 ml/ 1.4 fl oz)
Clinique Take the Day Off Makeup Remover for Lids, Lashes & Lips (30 ml/ 1 fl oz)
Clinique Clarifying Lotion No.2 (60 ml/ 2 fl oz)
Clinique All About Eyes (5 ml/ .17 fl oz)
Estee Lauder Sumptuous Extreme Lash Multiplying Volume Mascara
MAC Melon Pigment (full size)
MAC Rose Pigment (full size)
MAC Style Powder Blush
MAC BlackTrack Fluidline
MAC Plush Lash Mascara
MAC Smolder Eye Kohl
MAC Extra Amps Dazzleglass
Urban Decay Naked Palette
Make Up For Ever Mist & Fix (25 ml/ 0.84 fl oz)
Max Factor FaceFinity 3 in 1 Foundation SPF 20 in #50 Natural (30 ml)
Max Factor Flipstick Colour Effect in Bloomy Pink
NYX Jumbo Eye Pencil in Black Bean
Beauty So Clean Cosmetic Sanitizer Mist (8 ml/ 0.27 fl oz)
MUA Heaven & Earth Eyeshadow Palette
MUA Poptastic Eyeshadow Palette
MUA Pink Sugar Plumping Lip Gloss
MUA Peach Shimmer Plumping Lip Gloss
Jordana LOL Lipgloss in 104 BFF
Essence STay Matt Lip Cream in #02 Smooth Berry
Essence Lip Liner in Cute Pink
Deborah 24 Ore Lip Liner in #08
Orly Miss Conduct Nail Lacquer (18 ml/ .6 fl oz)
Orly FX Pink Pixel Nail Lacquer (18 ml/ .6 fl oz)
China Glaze Champagne Kisses Nail Polish (14 ml/ .5 fl oz)
China Glaze Pure Joy Nail Polish (14 ml/ .5 fl oz)
Kinetics Matte One Night Top Coat (15 ml/ .5 fl oz)
Kinetics Crying Lamborgini Nail Polish (15 ml/ .5 fl oz)
Kinetics Bali Escape Nail Polish (15 ml/ .5 fl oz)
Skinetica Anti-Blemish Soothes Calms Clears (100 ml)
Nelsons Pure & Clear Anti-Blemish Facial Wipes
The Official Rules!
The  value of the grand prize is over $650/ €500 / 2200 Lei. This prize is non-transferable and there are no cash or other substitutes of prizes by winner. In case that the prize shipped to winner's address won't be pick up by the winner and the package returns to Chicprofile, I will not sent the package again and another winner will be selected.
By entering or accepting the prize in this contest, winner agrees  to be bound by these Official Rules, Terms, and Conditions and to conform to all federal, state and local laws and regulations.
Eligibility
This is an international contest and is open to worldwide participants unless prohibited by their local state/country. If a minor wins the prize will be awarded to their parent or legal guardian on their behalf.
Disclosures
This promotion is in no way sponsored, endorsed or administered by, or associated with, Facebook, Google, or Twitter. I hereby release Facebook, Google, and Twitter of any liability. Information that participant discloses is provided to Chicprofile, not to Facebook, Google, or Twitter. All the products were purchased by Chicprofile therefore this contest is not sponsored by any of these brands.
GOOD LUCK!