Hello beauties!
This season is all about the eyes with the newly released Laura Mercier Eyeconics Collection which features the essentials items for an amazing smoky eye.
Embrace your seductive, mysterious side with these artistry essentials that create Laura's perfectly dramatic smoky eye. The versatility of the 2 liners gives you an intense, clean, precise line that extends the shape of the eye while the new Brow Dimension Color Gels define, lengthen and thicken brows. Finish the look with Black Karat Baked Eye Color and Extra Lash Sculpting Mascara. Step it up and start playing!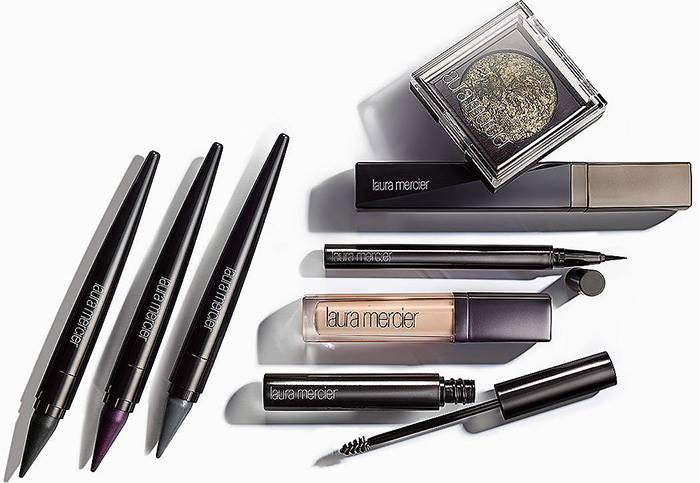 Model is wearing:
Repair Crème, Foundation Primer – Hydrating, Candleglow Soft Luminous Foundation in Vanille, Secret Camouflage in #2 & #4, Secret Brightening Powder #2, Bronzing Pressed Powder in Golden Bronze, Eye Basics in Wheat, Baked Eye Colour in Black Karat, Kajal D'orient Eye Liner in Vino, Brow Dimension Fiber-Infused Colour Gel in Brunette, Extra Lash Sculpting Mascara in Black Onyx, Crème Smooth Lip Colour in Brigitte.
Availability
U.S. Launch Date – end August 2016 at Macy's and online @lauramercier.com
Laura Mercier Eyeconics Collection Fall Winter 2016
Kajal D'Orient Eyeliner – $28.00
Kajal as you've never seen before: one-stroke of carbon color intensity with a luminous shine finish. Create endless eye effects with the first kajal to combine color, light and long wear. The creamy texture melts to the skin for instant impact, blends easily and evenly for a truly smoky eye. Highly adherent color stays smooth and flexible and the easy to apply stick glides on with extreme precision.
Graphite
Vino
Noir Supreme
Instant Ink 24-Hour Brush Eyeliner – $30.00
Instant Ink 24-Hour Brush Eyeliner delivers impactful, bold lining precision in one stoke from a thin eye-hugging line to a bold, dramatic cat eye. A super-fluid formula and flexible, soft brush tip combine to create an endless range of lines and shapes. This water-proof, transfer resistant liner provides intense color with smudge proof results. Application is smooth and effortless: Makeup artistry made simple.
Eye Basics Primer – $27.00
The perfect canvas for eyes, Eye Basics camouflages eye imperfections and enhances the durability of eye makeup. Skin friendly ingredients enhance the delicate skin on the eye lids, botanicals soothe distressed lids, Vitamins A, E & C provide anti-oxidant protection and Eye Bright offers anti-inflammatory and healing benefits. This sheer, creamy texture blends easily and smoothly leaving a long-lasting semi-matte finish. Crease-proof and water-resistant, eyes are primed with this highly versatile product. Use as a primer or alone to add a little color to your eyes.
Cotton – light yellow
Eyebright – vibrant midtone blue
Flax – beige with pearl
Linen – light ivory
Peach – peachy beige
Wheat – light neutral
Tawny – medium to deep beige
Buff – medium pink beige
Extra Lash Sculpting Mascara – $26.00
This luxe, creamy formula gives lashes built-in memory control for mega lengthening and styling. Styles and sculpts the lashes to enhance the natural contour of the lashes with mega build structure. Delivers immediate building and volumizing action.
Baked Eye Colour – $25.00
An innovative wet/dry Eye Colour formula featuring Baked technology in beautiful shades that last all day. This smudge resistant, lightweight eye colour gently smoothes onto the lid for an even application.
Black Karat – black gold with black pearl
Ballet Pink – pale peach pink
Lagoon – shimmery metallic turquoise
Petal Pink – soft pale pink
Terracotta – warm bronze radiance
Violet Sky – rich indigo violet
Brow Dimension Fiber Infused Color Gel – $24.00
A fiber-infused colour gel that immediately creates volume and density to brows leaving them full, dimensional and natural-looking.
Black – deep brown black
Brunette – neutral brown
Blonde – medium to ash blonde
Enjoy more photos…