Hello pretties!
Lancome continues to extend its fragrance collection, La Vie est Belle, first launched in 2012 with a new edition of this fragrance that spreads happiness all around and launches La Vie est Belle Eau de Toilette.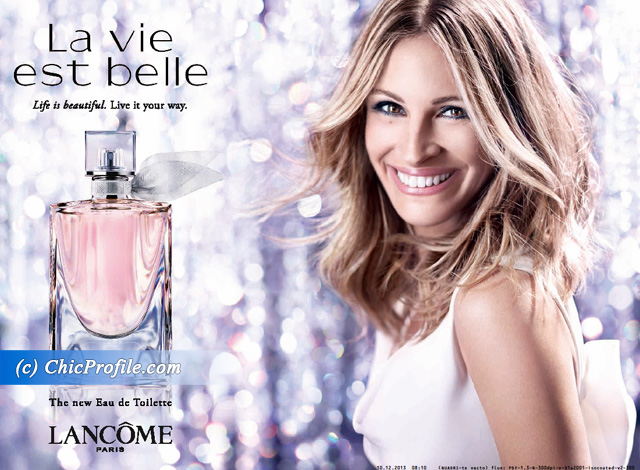 This happiness is just waiting to be experienced by every woman who sees herself reflected in the luminous femininity of La vie est belle L'Eau de Toilette. Crafted by two of the world's leading perfume-makers, this new edition reveals an even sunnier, more radiant facet. The iconic smile nestled within the bottle is reinvented with an all-new, elongated interpretation, as if taking flight into a new era. Once again personified by Julia Roberts, the embodiment of the Lancôme woman with her resplendent aura, the crystal smile contains a sparkling jus of brand new addictive delights built around magnolia. A fragrance of youth, a sweet herald of liberty carried on a floral breeze…
Availability
International Launch Date – January 2014 at Sephora, Nordstrom, Macy's
Romania Launch Date – January 2014 at Sephora, Douglas, Marionnaud
Lancôme's latest creation, La vie est belle L'Eau de Toilette, offers a brand new vision of the exceptional bottle, designed by Catherine Krunas. Its crystal smile is seen in more profound, radiant form than ever, taking flight with delicate fragility. Its new, pared-down lines are magnified with an iridescent white organza ribbon, forming two ethereal wings on its joyful silhouette, like symbols of freedom. Fresh and luminous, its rosé elixir adds to the elegance of this concentrate of happiness.
With La vie est belle L'Eau de Toilette, Lancôme creates its first gourmand magnolia. This delicate, light-infused creation stems from the unique expertise of two of France's greatest perfumers: the luminous femininity of Anne Flipo for a radiant hint of joie de vivre and the technical virtuosity of Dominique Ropion to express the spark of life through the grace of flowers.
A reinterpretation of the original iconic fragrance's gourmand signature, built around a majestic flower whose subtle yet voluptuous notes are coupled with a heart of noble, natural materials. Magnolia essence thus freshens the most luminous form of iris pallida, perfecting the absolute of white flowers and patchouli essence in an exhilarating harmony.
A symbol of youth, beauty and majesty, magnolia – one of the first flowers of spring – is meticulously harvested before undergoing a steam distillation process to produce its precious essence. Only then does it reveal all of its sublime femininity within an exceptionally concentrated fragrance, swathing skin in a veil of light. Its floral heart is enveloped in a refined smile of almond sweetness tinged with vanilla, praline and spun sugar, interlaced with tonka bean.
Enjoy more photos…