Hello lovelies!
Jill Stuart Tuberose & Rose Collection for Holiday 2013 was previously discussed as a sneak peek but now as we are only two weeks from the launch date I want to tell you more about each product of this beautiful scented feminine collection.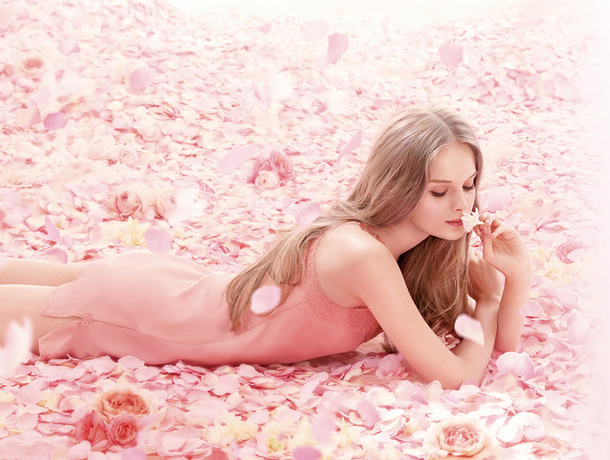 In the morning when you awake from sleep or on times when you reflect on yourself, whatever you touch, wear, and the air in your rooms. Give sweet reverberations to everything. Snuggling gently with your skin is a coziness which melts body and soul and contains the blessing of tuberose and alba rose. A veil of fragrance providing rich moisturizing and a sense of transparent elegance will wrap you with an unbridled sense of well-being and enhance your feeling or relaxation in a romantic way.
Loveliness that you want to keep around at all times, comfort that you want to touch all the time. Such fragrance will bring another new happiness. The fragrance has an effect to provide a sweet and romantic mood.
Its top note is one of fresh citrus and brisk lemon with orange, and the green of cassis violet leaves are as if a clear light is within. As the middle note, after gently blooming a floral scent of refreshing and translucent alba rose and tuberose, as well as jasmine, mimosa and geranium, lastly, amber which provides a gentle warmness and relaxation, with the comfortable scent mixed with the charming woody scent leaves and sweet reverberations.
Availability
Japan Launch Date – 6 December 2013 @eshop.jillstuart-beauty.com
Jill Stuart Tuberose & Rose Collection Holiday 2013
Tuberose & Rose Body Milk – New – 250 ml
Spreads with a thick and mild touch and penetrates as if melting into your skin. With its rich moisturizing effect, this body milk leads to a springy texture, with soft and dense luster. Moisturizing ingredients, such as the white strawberry extract, calendula extract, and damask rose extract, and emollient ingredients, such as mango seed oil, wild rose extract, rosehip oil, and shea butter are blended together. By covering the surface with firming oil, moisture can be firmly contained so that the springy texture and soft skin will be retained until the next morning.
Tuberose & Rose Hand Cream – New – 75 g/ 30 g

This hand cream spreads over your hand with a dense touch as if melting with a luxurious sense of use thanks to its high penetration. Refreshing moisturizing effect penetrates and protects easy-to-dry skin by wrapping while softly relaxing. Thus creating smooth and soft hands.
Tuberose & Rose Fabric Fragrance – New – 200 ml
Fabric fragrance where you can enjoy the romantic tuberose and rose scent by spraying clothing and bedclothes. It can be used widely from curtains to cloth lining of bags. In the clean and modern impression of Jill Stuart Relax, a romantic design scattered with flowers, such as roses, based on pink. It is a spray type and at the neck of the cap with a motif suggestive of diamonds, a scented white ribbon charm is attached.
Tuberose & Rose Gift Box – New & Limited Edition
A gift box MM limited design, which enables simple and easy wrapping. Flower motif of tuberose & rose dramatizes a wonderful gift scene. This box is also perfect for a Christmas present.
Enjoy more photos…