Hello beauties!
Guerlain creates in partnership with Natalia Vodianova, Terracotta Chic Tropic, an exclusive shade of the mythical Terracotta bronzing powder for the summer. The limited edition Terracotta Chic Tropic bronzing powder for face and decolletage has an iridescent finish and comes in a XXL format.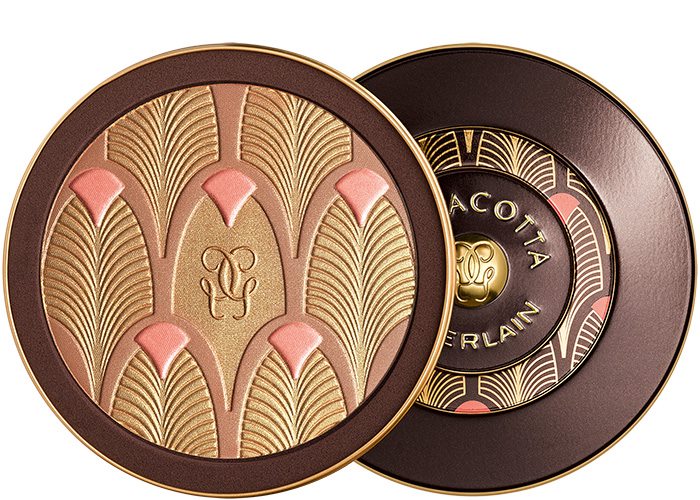 The powder mixes heat and color to emphasize the natural tan. Its irresistible palm trees pattern which are also decorating the lid of the compact, makes Terracotta Chic Tropic a new beauty jewel, a collector's item. You can reuse the case as you like once you finished the powder (if you have the heart to swatch it). Just like the other Terracotta bronzing powder, this one will warm up all skin tone, but will add a gold iridescent sparkle, to unify the tan. The result is natural and remains throughout the day.
Availability
U.S. Launch Date – on Nordstrom Anniversary Sale
UK Launch Date – August 2017
France Launch Date – Now online @nocibe.fr (€59.90)
Spain Launch Date – end May exclusively at select Douglas stores
International Launch Date – Now @tendance-parfums.com (€49.00)
Guerlain Summer 2017 Terracotta Chic Tropic Bronzing Powder
"The Terracotta cult powder offers a unique fragrance, with a joyous and sparkling accord of bergamot and mandarin." In the heart, the solar and feminine notes of gardenia, jasmine and ylang-ylang play with the lightness of honeysuckle. In the background, vanilla, combined with woody notes, gives all the character and mystery of this mythical fragrance. The senses are awake, already elsewhere. "
Shop the post
I'm not denying the beauty of this bronzing powder, but pardon me for saying…isn't Guerlain just coming with a lot of bronzing powders this year? I mean, usually there was only one limited edition summer Terracotta edition…but this year, I can't even seem to keep up with the launches. How about the earlier launches of Terracotta Sun Trio (swatches, photos) and Terracotta Sun Tonic ?