Hello pretties!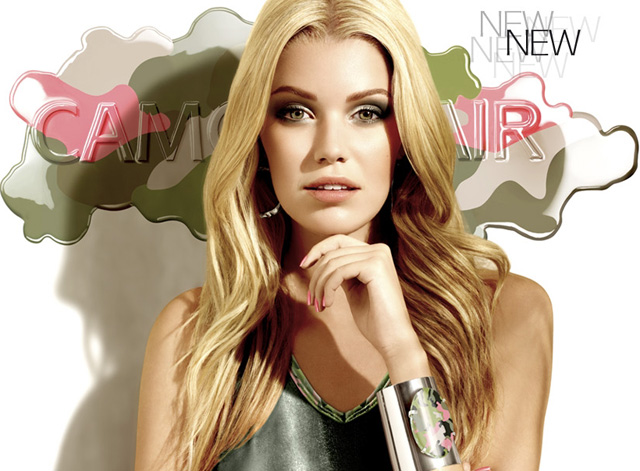 The absolute fashion highlight on international catwalks this early summer is the innovative combination of camouflage and feminine elements. The current Camouflair collection by BeYu combines the popular camouflage design with a bright coral pink!
Whether furniture, product or fashion design – Italy undeniably produces the best designers in the world. Lucio Stramare is one of them. With a passion for fashion and trends, the head designer, together with color expert Monica Gazzi, has been running a renowned design agency for almost 10 years with a large staff in Asolo in Italy.
With their fine feeling for fashion trends and forms, the two creative Italians have already designed exceptional designs for BeYu Eyewear – the cool, young eyewear brand – in recent years.
Availability
International Launch Date – beginning May at Douglas and online @douglas.de
BeYu Camouflair Summer 2014 Collection
Catwalk Star Eyeshadow – Limited Edition – €14.95
No.27P Jungle Green – shimmering light green
No.05P Autumn Rain – brown and beige
No.10P Toffee Brown – warm caramel
Soft Liner for Eyes and More – Limited Edition – €6.95
No.673P Rainforest Bush – olive green
No.646P Tree Rock – dark grey
No.610P Black – smoky black
Maxi Volume Mascara Ultra Black – Limited Edition – €11.95
The soft XXL brush provides intensive volume, and leaves the lashes with visibly more density and fullness. At the same time, the lashes are given a breathtaking length and a seductive swing.
Star Lipstick – Limited Edition – €8.95
No.19P Iron Oxide
No.31P Nude Touch
No.33P Nude Rosa
No.415P Soft Berry
Long Lasting Nail Lacquer – Limited Edition – €5.95
No.275P Safari Green
No.335P Cherry Blossom
No.339P Pastel Dream
No.404P Soft Coral
Enjoy more photos…